A lot of businesses find it hard to explain what it is they do in a way that potential clients can easily comprehend. This is where explainer videos come in.
An explainer video is defined as a short animated video that focuses on explaining an idea in a simple, engaging and compelling way, by using a clear and concise language; appealing and attractive visuals that quickly grab the viewer's attention. The human brain processes visuals faster than any type of content. Visual content includes images, videos, infographics, GIF's, presentations, etc. and there is no denying their importance to your business' marketing strategy.
"Video marketing is a powerful means for promoting anything you want online, whether it's a product, service, opt-in form, website, blog, etc. Videos are now an expected component of any website." – AnimosityPierre, Video Marketing Tips to Drive More Traffic
Why are Explainer Videos Effective?
What makes explainer videos so effective? Here are five reasons:
• Dual-cognition
Explainer videos are effective because they combine audio and visual stimulus. People retain about 10% of what they're told, but when both visual and auditory senses are stimulated, that number goes up to 68%. That's a huge increase in retention!
• Problem solver
Ideally, explainer videos present a problem then offers a solution. Explaining how your products or services solve a customer's problem is incredibly valuable for getting more conversions. You can do this by publishing written content but it doesn't have the same effect.
• Concise
Explainer videos are short but packed with all the necessary information about a certain product or service. Generally, they are only a few minutes long which means people won't have to devote a lot of their time in getting to your brand.
"Business decision makers LOVE online video because it gives them the most amount of information in the shortest amount of time." – Robert Weiss
• Showcases personality
Explainer videos are the perfect avenue to show your brands creativity and personality. Most successful videos are from those brands who aren't afraid to creatively experiment. According to David Levy, co-founder of LNC Productions, "A video that surprises people, or otherwise delights them, will stick with them indefinitely. It's a chance to get inside your customer's mind and stay there if you have the right creative team to make it happen." Focus on giving your audience an unforgettable experience when making your explainer video,
• Versatile
Explainer videos can work anywhere. They can be posted on any social media network such as Facebook, Twitter, and YouTube. You can include them in your email newsletters, feature them on your website's homepage or even include them in slideshow presentations.
They are also relatively easy enough to edit. Whenever you launch a new product or feature for your service, you can just add a few seconds at the end of the video to promote it.
The Biggest Mistakes
1. Expense VS Investment
The cost of your explainer video will depend on a lot of factors. HubSpot contacted 70 explainer video companies from across the industry and asked them how much it would cost for a 60-second video. They then compiled 3 statistics regarding the pricing:
o The lowest price for a 60-second explainer video: $700
o The average price for a 60-second explainer video: $7,972
o The highest price for a 60-second explainer video: $72,000
They also compiled 3 statistics regarding the turnaround time:
o The shortest turnaround for a 60-second explainer video is 14 days
o The average turnaround for a 60-second explainer video is 38.5 days
o The longest turnaround for a 60-second explainer video is 84 days
When choosing a company, it all depends on your time and budget. But keep in mind that a good explainer video is an important investment and is an integral marketing tool for your brand. It might cost you money now but the return will be exponential. Be patient when hiring an agency to make creative explainer video for you. If you are in a rush or trying to meet a deadline, there are agencies that offer a quick turnaround fee for a faster turnaround.
2. Unclear purpose of the video
Setting objectives is a vital step in your digital marketing strategy and the same goes for your explainer video. It's easy to get wrapped up in making the animation perfect, choosing the right background music and everything that goes on the technical side of video making to the point that you sacrifice the effectiveness of getting your message across.
What do you want your explainer video to say to its target audience? Asking yourself this question before you draft your script is very helpful for setting a clear objective for your video. This way, your brand's message will be delivered to your audience clearly. Whatever it is you want to accomplish, you have to keep this end goal in mind.
3. Disorganized script
"A well-written script is the key to a successful explainer video. It's the foundation upon which everything else is built." – Kissmetrics
According to Neil Patel, your explainer video should be presented like this:
o The problem – Address the pain your customers are having
o The solution – Introduce your product or service as the answer
o How it works – Briefly describe how it works or how to get started
o A call to action – Tell people what to do next like share your video or visit your website
You have to organize your script in a way that all of the main points are presented in 60 to 120 seconds. If your video lasts longer than that, your retention will drop pretty fast. 85% of people will watch an entire 30-second video, but only 50% will watch a video completely if it's up to 2 minutes. That means your script should be concise.
Shorten your message as much as possible. Write and rewrite to take away everything that isn't necessary until you arrive at your core message. YumYum Videos recommends that the ideal number is 240 words and that's 90 video seconds, enough time for you to explain your product or service without anyone losing interest.
4. Wrong tone
Don't make your script too formal and avoid using jargon as well as complex language completely. The video should be simple, smooth and engaging. Make it seem like you are explaining to someone you know. Remember who they are, where they come from and what their background is. All of these will help you find the right tone of your video and will influence crucial decisions regarding the setting, cast, pace, narrator and the entire script.
5. Poorly Branded
Your video is not a completely different project for the rest of your marketing. Keep in mind that your explainer video is also an extension of your brand which means that it should also look and feel like it. When people watch it, they should be able to know that you made it instantly.
Use the look and feel of your brand's identity (colors and fonts) to strengthen brand recognition.
6. No strong call-to-action
This is the most common mistake that businesses make when making explainer videos. Viewers are not going to do something on their own. You have to persuade them with a clear call-to-action at the end of your video. Let them sign up for your newsletter or visit a link or download an app. Whatever it is that you want them to do, make sure to tell them so they can be guided in the next steps that they are going to take.
Here are three ways you can add a Call to Action in your video:
o Vocal CTA – This is when the person speaking in the video tells the viewers the Call to Action.
o Text CTA – This is a CTA that appears in the video as text.
o Button CTA – A button CTA is something your viewers can click on to take them directly to the next step.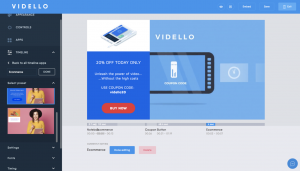 7. Forgetting about SEO
Just because videos are visual content doesn't mean that you can skip SEO. It's a pain especially if you're still starting but it is one of the greatest ways for people to find your content. When you upload your video to the video hosting site of your choice, remember to fill out all of the metadata sections. Type in your top keyword in the title and description and make sure to include as many other relevant keywords in the tags section.
By the way Vidello automatically adds SEO to your video, optimising your videos for search engines.

So, it's fair to say explainer videos are a crucial part to explaining your value proposition to potential customers and should be heavily invested in. But, you must ensure you have a reliable host to look after your videos and ensure they are consistently online – you don't want to lose revenue and customers by having a non-functioning video on your website. Try a free trial today of Vidello and let us be your reliable video host to take care of that all-important explainer video!