Quite a bit of time and effort can go into the process of recording and designing a video. How many hours did you spend to create videos for a membership area or digital product? If you are selling information in the form of video content, then it takes work to publish professional videos that help your customers experience value from their purchase.
If you are going to produce video content, then it is essential that you use a good hosting tool to simplify the process and improve your video quality. Here are a few benefits that you can expect if you choose Vidello:
Benefit #1: Protect Your Video Content
Vidello offers a platform that is safe against digital theft. In our modern world, it's nearly impossible to get 100% protection against theft, but there are things that you can do to minimize the risks. Vidello makes it easy to protect your content, creating almost no chance that the video will be downloaded. Plus, you can add domain protection and password protection if needed, so that you can manage the audience that has access to the videos.
Why is this protection important? A quick search online shows how easy it is for novices to download any video from the big platforms.
Benefit #2: Build Your Branding
Branding is the foundation of an effective marketing campaign. If you are working to build the reputation of your company, then you need to be sure that your content is branded with your logo and information.
Hosting the videos with Vidello gives you the full creative ability to add branding and watermarks. The design of the video is left to your skills and imagination! Plus, you can avoid the obligatory site logos that are added to videos hosted on major websites such as Vimeo and YouTube.
Benefit #3: Great Customisation
In addition to the branding options mentioned above, you have access to many other simple tools that make it easy to assess the customisation details that you desire. Other video websites simply give you a place to host the content, but you don't have access to video editing tools.
On the other hand, Vidello gives you a platform for hosting, as well as effective tools that add beautiful and unique features to the content. You can make your videos look better than ever, creating a professional image for your company.
Benefit #4: Speed Up Productivity with Presets
If you like the option to add custom features to your videos, then you will be excited to hear that your personal edits can be saved as presets. Creating these personalised settings will save time and speed up your production process.
There's no reason for you to repeat the same editing steps over and over again. Instead, eliminate the duplicate work by importing the same style and settings that were used on previous projects. Check out this knowledgebase link that shows how you can use previous settings for a new project.
Benefit #5: Add a Touch of Personality
Personalisation is essential in our world of social media platforms. Customers want to feel like they have a personal connection with you and your brand. Building these relationships develops brand trust and increases the chances that your customers will come back to purchase products again in the future.
Leverage Vidello Dynamic Variables so that you can personalise the experience that customers have when they interact with your content. When the customer views your membership or course area, they will be welcomed in a way that helps them feel included.
Benefit #6: Optimise Results with Split-Testing
There's no reason to play a guessing game with the conversion rates of your videos. Use our built-in split-testing tools so that you compare the performance of different layouts and designs. Split-testing similar videos can help you determine the design that is working best for you.
Even a small increase in conversions can boost your profits by a significant amount. If you aren't split-testing, then you are leaving money on the table.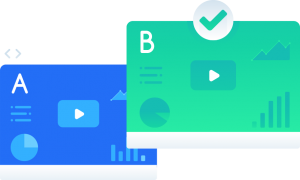 Benefit #7: Organise Your Projects
It is easy for digital content to get jumbled in a mess of file folders and hard drives. Vidello simplifies the organisation process by helping you keep your projects in order.
Test this feature by creating project files. The system separates the projects so that you don't have to worry about footage that is mixed together with older work. Speed up your productivity since you won't be sifting through unneeded content.
Benefit #8: Monitor Your Stats
How effective are your video marketing campaigns? Measure the results by evaluating the stats provided by Vidello. You can see numbers for video views, location of users, and more. Use the split-testing tool to gain insight into your audience, giving you information to shape your content in the future.
Benefit #9: Chapters
You can now add chapters into your videos, enabling viewers to cut to specific parts of your video with just a click. This feature is great for longer videos, webinar replays and for members area content.
Benefit #10: Playlists
Playlists are great for quickly adding content to a membership site as well as showcasing multiple videos on a product page.
And you can quickly create them with these options:
Re-order the videos by dragging and dropping into position
Select as many videos as you like
Change the hover colour to suit your website's branding
Quickly embed the playlist onto your site
Try Vidello: See the Difference for Yourself
If you want to improve your videos and upgrade your digital content, then right now is a great time to try Vidello. We are happy to offer a special discount if you choose to transfer your videos to our service from another hosting site. Simply talk to our support team for more details about the start-up discounts that are available! You can contact us or use the live chat feature on the bottom right corner of this page. We are happy to answer your questions and help you learn more about the benefits of Vidello.