Do you want to know which of your videos converts the best? Then you need to split-test.
With Vidello, split-testing is very simple: just select two videos and generate an embed code. We take care of the rest!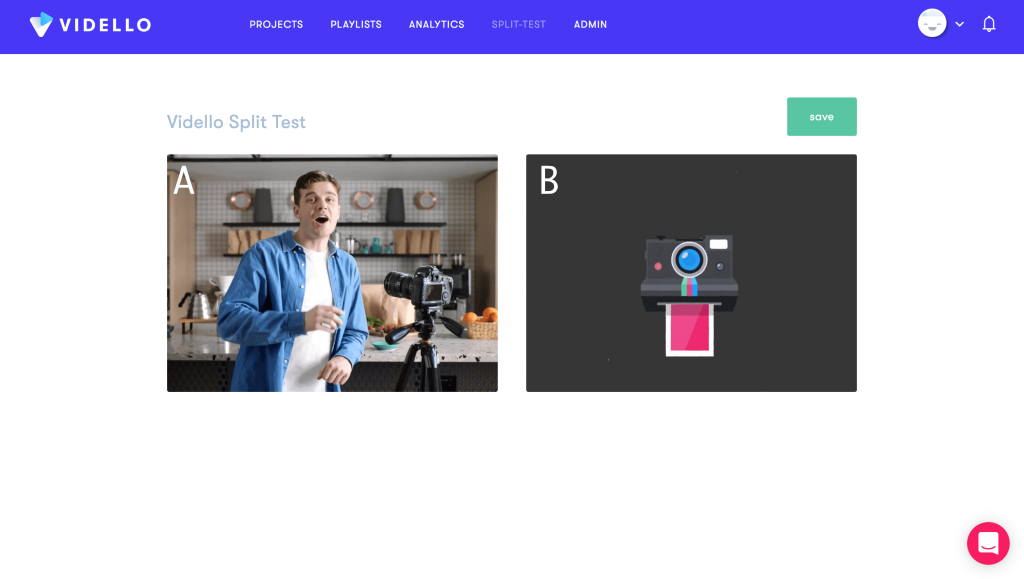 Compare your videos to see which one performs better using the Vidello split-testing feature which will show you a comparison of:
Number of views – the amount of people who loaded this video on a webpage
Plays – the amount of people who played the video
Play rate – ratio between views and plays
Engagement – how much percent of the video is being viewed by viewers
Opt-ins – the amount of people who subscribed to your list via the video
To test this feature, we created a simple test. We took two of the same video, but uploaded a different thumbnail to each in order to see which thumbnail visitors responded to the most. The result as you can see shows that engagement numbers are similar, which makes sense as we used the same video. However the results also clearly show that we should use thumbnail A for this video because it had an approximately 30% higher play rate than thumbnail B – an invaluable piece of information for a marketer.
Pretty much anything you create online can be split-tested.
For example: collecting leads. You can split-test various video or page templates, texts, timing, and use the results to optimize your campaigns to work for you instead of taking shots in the dark.

Split-testing thumbnails as you already saw can also have a significant impact on your video's play rate so it's worth doing.

Likewise, if you're unsure about which sales video will generate the most sales, use this feature to split-test your sales videos. By analyzing the results, you'll be confident in knowing that the final video you use will attract the most engagement and sales.